DIY Gua Sha for Facial Massage to Get Sculpted and Toned Face
Most women today know and practice facial gua sha, in which they get relaxation and lessened tension that lead to clearer skin, fewer wrinkles and a more sculpted or youthful appearance.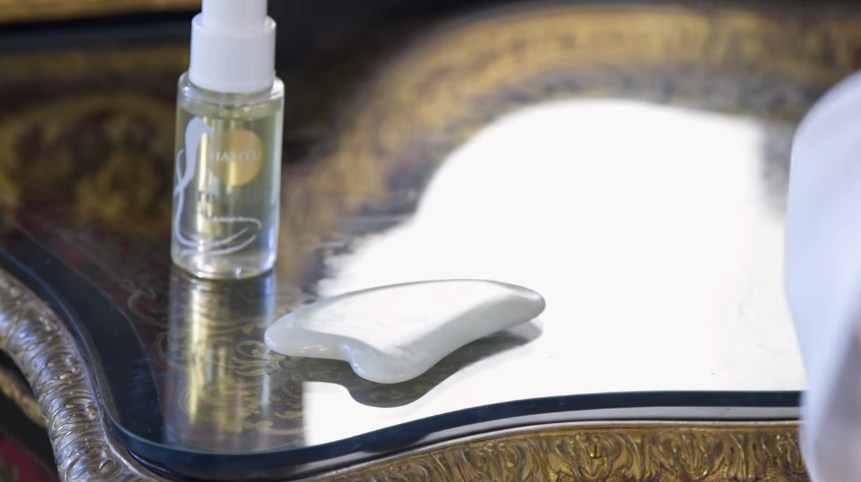 Practicing gua sha for the first time will get you to feel immediate benefits including reduced inflammation to the whole face, decreased puffiness around the eyes and the release of tight muscle tension as well.
Furthermore, practicing gua sha over a few weeks will open your eyes how the gentle, upward strokes relax, tone and lift the muscles of your face
Your face is more contouring and sculpting and it is a more defined jawline and cheekbones as well as softening fine wrinkles.
Consistently, practicing facial gua sha also improves your blood circulation, lymphatic drainage, and promotes vibrancy and elasticity in your skin.
What is Facial Gua Sha Massage?
Gua sha or pronounced gwa sha is one of facial treatments where you need to scrape your face with gua sha tools such as a flat jade or rose quartz stone over the skin in upward strokes to relax stiff muscles and promote tissue drainage.
Always remember not to press hard gua sha tool on your face in order not to leave bruise-like marks on your face
According to this, just do the scraping on your face with a much lighter hand that you can do on your own at home.
How to Choose the Correct Gua Sha Tool Oil Serum for Facial Treatment?
Rose Quartz Teardrop-Shaped Gua Sha tool from Herbivore
It is often touted as the best one to start as it has a large surface area used for massaging your cheek and neck
You can easily use it to grip in your hand as well.
Rose Quartz Square Gua Sha Tool from Herbivore
This gua sha tool features double prongs that help specifically target that area such as the jaw bone.
Jade Gua Sha Tool from Hayo'u
It has a very precise and petite edge, and it is used for more delicate parts of your face like the under-eye or the area around the lips
Rose Quartz Gua Sha Tool
You can search rose quartz gua sha tool with a scalloped edge which is often used to massage your knuckles, and you can also use it to re-create the facial massage
Also, you can use rose quartz by Herbivore Botanicals as practiced in this tutorial
Face Oil
You can choose and use a face oil or serum from Biossance
Alternatively, you can find your oil or serum from the other product
How to Use a Gua Sha Tool Rose Quartz for Facial Massage?
Here, you can practice gua sha for facial with a gua sha tool called rose quartz by Herbivore Botanicals and a face oil or serum from Biossance
Make sure to have a facial mist and oil or serum to be put on your face firstly before doing gua sha
Start massaging from the neck and work your way up to the forehead to create a clear path for the fluids in your face to drain
Continue to use upward and outward strokes start from the neck, jawline, chin to mouth area
Later on, sweep across the cheeks, as well as pressing gently under the eyes and across the eyebrows
Then, you can use upward strokes on the forehead to the hairline
For overall and detail treatment of gua sha for facial, you can also practice these following procedures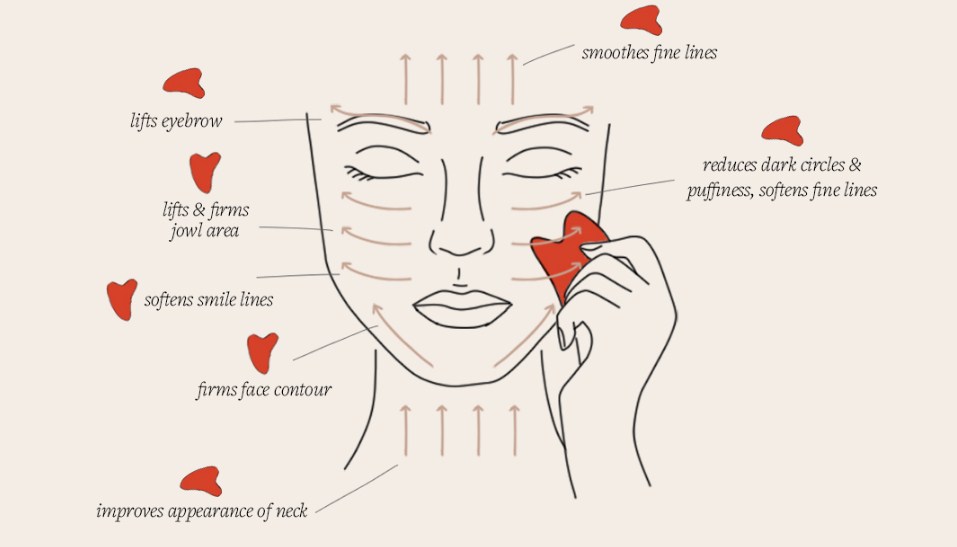 Always start massaging with one side of your face first
When massaging one side of your face, do the action at least 5 strokes for all areas.
Then, massage the forehead and neck, and repeat to scrape those areas twice as many times.
Neck massage
Continue to massage where your neck meets the middle of the right collarbone
At this point, you must use light to medium pressure to move rose quartz stone up along the neck until you hit bone.
Do it right behind your ear.
Massaging under the chin
When you are about to massage under your chin, just gently glide rose quartz stone up the throat towards your face, as well as the soft area under your chin.
Massaging Chin
When you want to massage your chin, gently press and hug the middle of the chin
At the same time, glide rose quartz stone out along the jaw bone until you meet the earlobe.
Massaging Cheek
Just sweep rose quartz tool from the corner of the nose out to the middle of the ear to massage your cheek area.
Massaging under-eyes
Next, you continue to massage under-eyes area which is usually extremely delicate to feel.
Just move rose quartz stone purposeful and slow then guide rose quartz tool over the under-eye area out towards the hairline.
Massaging under eyebrow
At this time, you must be aware of pressing to the actual eye or eyelid when massaging under your eyebrow.
You must focus on the brow bone instead.
The massaging is started from the inner brow bone and sweep rose quartz tool over, out and down toward the temple.
Massaging third eye
At this phase, you may simply comb rose quartz tool to the center of the eyebrows up towards the hairline.
Massaging lower forehead
During the massage of lower forehead, gently press rose quartz tool into the center of the forehead above the brow bone
Then, continuing with a long stroke, move out rose quartz tool toward the temple.
Performing the big sweep
When coming to final massage, you can sweep rose quartz tool from the center of your forehead, under your hairline, down and over your temple to your ear
And, move rose quartz tool down the side of the neck to the terminus area.
Additionally, you can do this big sweep movement several times to that area.
Note
All those steps are just for one side of your face, then you can now repeat all of these steps to practice gua sha to the other side of your face.
In order to get the other tutorials of facial gua sha, you can read gua sha for depuff face and gua sha for natural face lifting which are also useful reference to follow and practice as your diy gua sha treatment at home
General Benefits of Gua Sha Therapy
As said earlier, the benefits of gua sha is to move lymphatic fluids and break down tension in muscles as well as improving blood flow and less puffiness.
The increasing blood circulation is helpful to boost up hydration for that coveted youthful glow, which also leads to naturally purged blemish-causing dirt and oils skin.
Also, it helps prevent and treat the signs of premature aging symptoms such as the appearance of wrinkles, dark eye circles and puffiness, and sagging and dull-looking skin.
You will also have less puffy eyes and get sharper cheekbones in short time after practicing gua sha
If you practice gua sha three times a week you might get an improvement in acne, dryness and wrinkles.
Moreover, performing a regular gua sha practice will really help keep your face from swelling so much during pregnancy.
If you are in your first pregnancy, especially in your last trimester, your face will definitely be chubbier and rounder.
Anyway, this may last time around though, where you may feel less full-faced and can still see your cheekbones and jawline.
Conclusion
To practice routine gua sha, you can do it in the morning, which is about to treat puffiness and energize your skin
You can continue to do it at night to work more on relaxing the muscles and releasing tight connective tissue
Except for facial massage, gua sha is also incredibly helpful at relieving headaches, migraines and TMJ/TMD that you can further read at this post.