Gua Sha Therapy on Perimenopausal Syndrome
If you are a woman closer to 50 of age, you may undergo perimenopause, a step closer to menopause where you may feel syndromes such as insomnia, irregular periods, anxiety, fatigue and hot flashes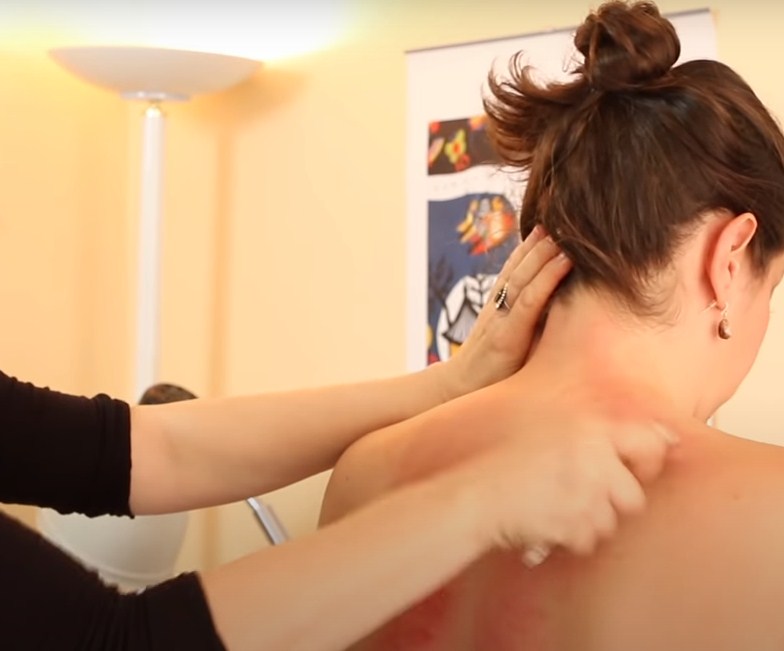 Hot flashes can be said as one of the symptoms when you are experiencing menopausal syndrome
Hot flashes can cause considerable discomfort as heat rises up the body.
Related to this circumstance, perimenopause itself can begin eight to 10 years before menopause, which is caused by estrogen levels fluctuating and starting declining but menstrual cycles continue.
On the other words, perimenopause is the initial stage of menopause, where it is for a woman's ovaries to diminish in both function and in its production of estrogen, a hormone essential to a woman's health.
The estrogen levels instigate a myriad of adverse fluctuations in a woman's overall function such as hot flashes, night sweats, fatigue, weight gain, palpitations, vaginal dryness, depression, dry skin, headaches, insomnia, irritability, low libido, osteoporosis, in which the changes in a woman's menstrual cycle are among the hormonal shifts that are noted in varying degrees.
Perimenopause symptoms are like snowflakes may be affected differently by every woman that can have discomfort at last for years.
Additionally, this medicine technique using a smooth-edged instrument called gua sha is used to scrape or rub certain areas of your body to relieve troublesome symptoms women experience in the years leading up to menopause.
Except gua sha, acupuncture can be used to treat perimenopausal and menopausal symptoms since this can promote healing while reducing the discomfort caused by hormonal fluctuations, this natural alternative treatment is both safe and effective.
And, this post is to evaluate the effectiveness and safety of Gua sha therapy dealing with perimenopausal symptoms, quality of life, and serum female hormones with perimenopausal syndrome.
Generally, gua sha is defined as an instrument-assisted unidirectional press-stroking of a lubricated area of your body surface to create transitory therapeutic petechiae or sha intentionally.
In line with this, gua sha will produce an anti-inflammatory response which leads to increased range of motion and decreased pain in that it also initiates an immune protective effect.
For further use, you can perform gua sha frequently to relieve pain, headaches, early stages of cold or flu, menopause symptoms, and asthma.
For gua sha tools, you can select a smooth jar lid that may fit perfectly in your hand and it can be properly sterilized or disposed for use in modern clinic and hospital settings.
For first thing, you may know that Gua sha is a holistic treatment that balances all the organs in your body to improve any conditions insomnia, irregular periods, anxiety, fatigue and hot flashes that are felt by a woman in 50 age
In Chinese medicine, gua sha is a technique using a smooth-edged instrument to scrape or rub certain areas of the body that will be designed to relieve perimenopause symptoms such as hot flashes and sweating that women experience in the years.
As said in the first paragraph, perimenopause or premenopause is a regular cycle that will be experienced by all women where it will begin eight to 10 years before menopause, as oestrogen levels fluctuate and start declining but menstrual cycles continue.
When menstruation stops, women may experience hot flashes, insomnia, tiredness, mood swings, forgetfulness, aches and pains, vaginal dryness and pain during sex.
For women who applied gua sha as perimenopause therapy, they will experience greater reductions in hot flashes and sweating, insomnia, nervousness, melancholia, fatigue and headache than the women who have consumed only conventional treatment.
To deal with such symptoms, using gua sha as a perimenopause therapy is one of the most commonly used techniques that will be useful to enhance surface circulation and produce an anti inflammatory effect.
Gua sha may also prevent or treat many common and frequently-occurring conditions, such as acute or chronic pain, colds, flu, fever, heatstroke, asthma and emphysema.
Once again, applying gua sha can be really helpful to relieve hot flashes and especially with regular treatment of the scalp, ear, back, arms, legs and feet to reduce the heat and support the abdomen.
For side effect, gua sha scraping may cause red or purple marks on the skin which typically fade within seven days
Side Effects of Gua Sha for Perimenopause Woman
Gua sha itself focuses on rubbing or scraping the skin with a massage tool, which may trigger tiny blood vessels known as capillaries near the surface of your skin to burst.
This circumstance may result in minor bleeding or skin bruising in which this issue usually disappears within a couple of days.
Some women also experience temporary indentation of their skin after going through a gua sha perimenopause treatment where skin brushing will disappear in one day or two.
Basically, the change in perimenopausal symptoms and quality of life are obtained through the change of serum female hormones including estrogen, follicle-stimulating hormone, and luteinizing hormone.
Some women with perimenopausal syndrome are treated with gua sha treatment and they feel the reductions of hot flash or sweating, paresthesia, insomnia, nervousness, melancholia, fatigue, and headache
In combination with acupuncture, herbal remedies, and gua sha treatments can be really helpful to reduce inflammation and increase circulation, which is to rebalance the adverse symptoms induced by the onset of a woman's aging body.
Moreover, the combination between acupuncture and gua sha treatments can alleviate menopausal discomfort where the women can focus on maintaining a healthy, pain-free lifestyle
Alongside, acupuncture is great at balancing and rebalancing energy, increasing circulation, and decreasing inflammation through areas which are affected by and often depleted of its normal function due to the aging process.
Acupuncture can also reduce bothersome hot flushes and stress, and it is also a drug free alternative to improving the women's quality of lives.
Acupuncture and gua sha deal with qi energy which is usually stunted by the onset of menopause in which if the qi becomes blocked, while occurring perimenopause and menopause, your body will react with symptoms of discomfort.
And, if the qi flows smoothly again through your body, it rebalances and re-energizes to heal itself.
The participation of gua sha as a scraping massage will remove blood stagnation that will increase circulation while decreasing inflammation when women are in perimenopause condition.
In connection with this, acupuncture, gua-sha, even cupping treatments are used to help to alleviate the uncomfortable consequences of menopause and those massage techniques are also dealing with the negative aspects of aging.
All women will go through from puberty to menopause conditions, where hormonal and emotional imbalances occur when they are in menopause condition.
Applying acupuncture or gua sha will be really useful to restore balance and overall vitality naturally to women through every stage of their life journey.
From the past, gua sha was a self-massage technique using a jade tool which had become known for its anti-ageing effect on facial skin especially for women.
How to Use Gua Sha for Menopause Treatment
To use gua sha for your facial health is by using a gua sha tool, where all you will have to do is to simply press-stroke the skin in one direction which will make redness called sha.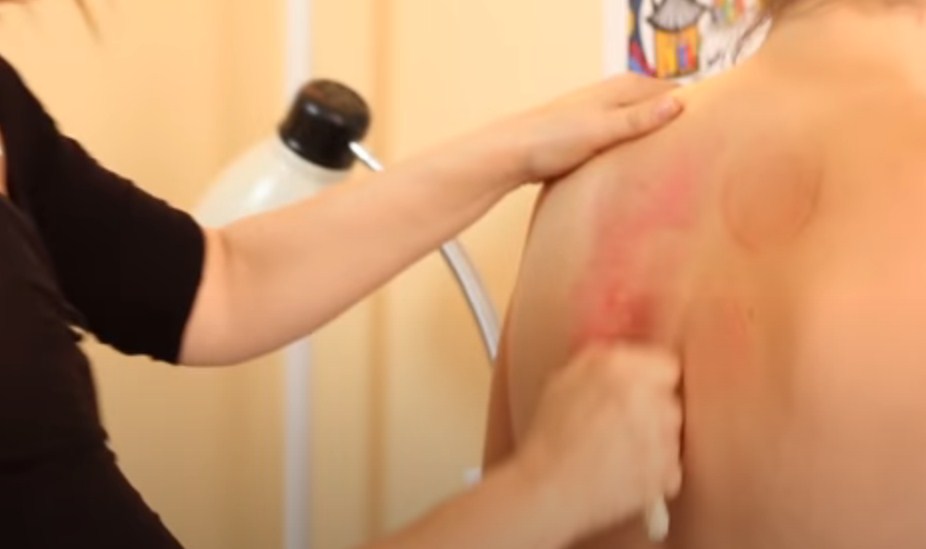 According to this, it produces a circulation-boosting, anti-inflammatory, healing response which helps switch your nervous system into rest mode and helps relax tense muscles.
For women, you can perform gua sha for your body when being in Menopause condition within 15-minute once a week that will be useful to reduce hot flashes, insomnia, anxiety, low mood, fatigue and headache.
Firstly, make sure to apply oil on your surface of your skin
Secondly, you can use a metal gua sha tool to press-stroke your neck downwards and chest which are out each side from the centre.
For upper back, you may need someone to do it.
During the scraping process, you can use either your thumb or the point of a gua sha tool to rub this point gently for three minutes, then press for five seconds.
Afterward, you can continue to rub gently for one minute to release any pain.
You can then switch to rub your other foot as well.
Conclusions
For side effects, gua sha scraping may cause red or purple marks on the skin but it will typically fade within seven days.
The results of applying Gua sha therapy for perimenopause is effective and safe in relieving perimenopausal symptoms and improving the quality of life for women with that issue
Also, gua sha therapy for perimenopausal syndrome may serve as a promising, effective, nondrug treatment in clinical work.
Once passing through eight weeks, women applying gua sha massage will experience greater reductions in hot flashes and sweating, insomnia, nervousness, melancholia, fatigue and headache than the comparison group receiving only conventional treatment
Again, gua sha therapy is one of the most commonly used techniques to work on relieving muscle pain on your body in that it can enhance surface circulation and produce an anti inflammatory effect.
Commonly, gua sha is used to prevent or treat many common and frequently-occurring conditions, such as acute or chronic pain, colds, flu, fever, heatstroke, asthma and emphysema that you can perform weekly within 15-minute Gua sha sessions
In the process, you can use gua sha tool and a skin lubricant to stimulate acupoints similar to those targeted by acupuncture focusing on the back, lower limbs and upper limbs for eight weeks